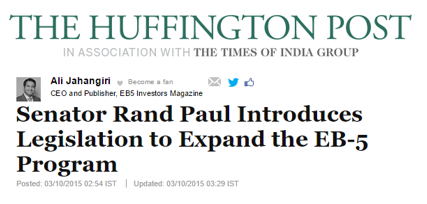 In the latest EB-5-related bill to hit the Senate floor, Senator Rand Paul (R-KY) introduced on October 1, 2015 the most open-handed, favorable legislation to-date for the reauthorization and renewal of the EB-5 Regional Center Program.
The Invest In Our Communities Act, Bill S. 2122, comes at a critical time for the program, which brings billions of dollars of foreign direct investment into the country and creates tens of thousands of jobs for American businesses and workers. Just a day prior on September 30, 2015, Congress temporarily extended the EB-5 Regional Center Program through December 11, 2015. Senator Paul's bill proposes to permanently reauthorize the program, bolstering its economic stimulation and job creation potential for local and state economies across the U.S.
The bill is unsurprising coming from Senator Paul, whose Kentucky candor and libertarian disregard for party lines often separate him from the mêlée. His approach to the EB-5 program, as laid out in S. 2122, is no different. Austrian economic principles guide the approach to S. 2122, offering simple solutions to root issues that, if passed, would resolve many of the hotly-contested topics that have plagued recently proposed legislative reforms to the program.
Please click on the logo to read more