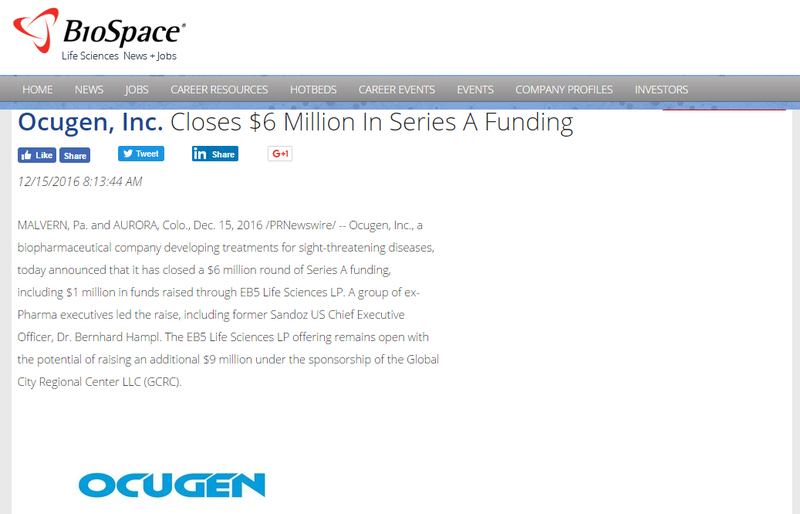 Ocugen, Inc., a biopharmaceutical company developing treatments for sight-threatening diseases, today announced that it has closed a $6 million round of Series A funding, including $1 million in funds raised through EB5 Life Sciences LP. A group of ex-Pharma executives led the raise, including former Sandoz US Chief Executive Officer, Dr. Bernhard Hampl. The EB5 Life Sciences LP offering remains open with the potential of raising an additional $9 million under the sponsorship of the Global City Regional Center LLC (GCRC).
Ocugen is a clinical stage biopharmaceutical company developing novel treatments for sight threatening diseases including ocular graft versus host disease, retinitis pigmentosa, geographic atrophy, wet age-related macular degeneration and diabetic retinopathy.
"We are pleased with the outcome of this round of financing and encouraged by the confidence demonstrated by our investors in our innovative programs and our mission as a company," stated Dr. Shankar Musunuri, Chairman, Chief Executive Officer and Co-Founder of Ocugen. "With this funding, we will continue our efforts to aggressively advance the OCU300 program toward an IND submission within a year, bringing this much needed therapy closer to the patients who need it."
Source: http://www.biospace.com/News/ocugen-inc-closes-6-million-in-series-a-funding/442066
Read more by clicking below image