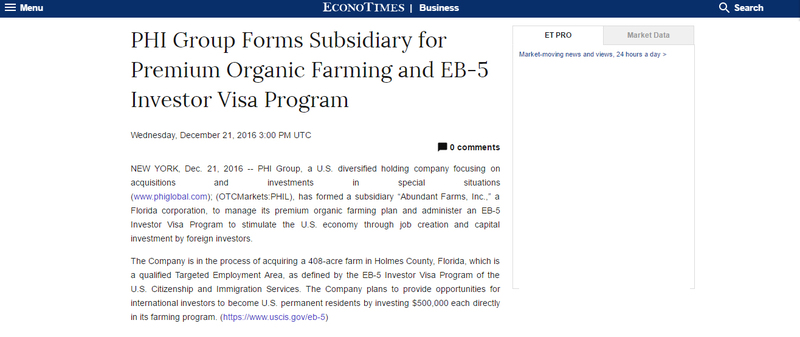 PHI Group, a U.S. diversified holding company focusing on acquisitions and investments in special situations (www.phiglobal.com); (OTCMarkets:PHIL), has formed a subsidiary "Abundant Farms, Inc.," a Florida corporation, to manage its premium organic farming plan and administer an EB-5 Investor Visa Program to stimulate the U.S. economy through job creation and capital investment by foreign investors.
The Company is in the process of acquiring a 408-acre farm in Holmes County, Florida, which is a qualified Targeted Employment Area, as defined by the EB-5 Investor Visa Program of the U.S. Citizenship and Immigration Services. The Company plans to provide opportunities for international investors to become U.S. permanent residents by investing $500,000 each directly in its farming program.
The Company recently signed an agreement with Mr. Van M. Pham, a Vietnamese agricultural expert, to secure intellectual properties for application of proprietary natural immune and symbiotic microbe systems in premium organic husbandry.
Source: http://www.econotimes.com/PHI-Group-Forms-Subsidiary-for-Premium-Organic-Farming-and-EB-5-Investor-Visa-Program-462136