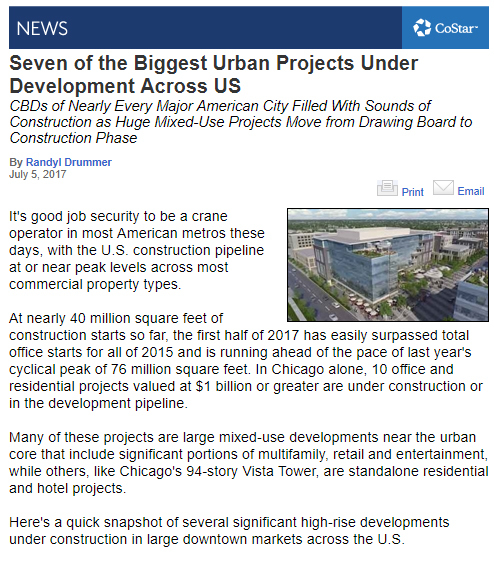 CBDs of Nearly Every Major American City Filled With Sounds of Construction as Huge Mixed-Use Projects Move from Drawing Board to Construction Phase
It's good job security to be a crane operator in most American metros these days, with the U.S. construction pipeline at or near peak levels across most commercial property types.
At nearly 40 million square feet of construction starts so far, the first half of 2017 has easily surpassed total office starts for all of 2015 and is running ahead of the pace of last year's cyclical peak of 76 million square feet. In Chicago alone, 10 office and residential projects valued at $1 billion or greater are under construction or in the development pipeline.
Many of these projects are large mixed-use developments near the urban core that include significant portions of multifamily, retail and entertainment, while others, like Chicago's 94-story Vista Tower, are standalone residential and hotel projects.
Source: http://www.costar.com/News/Article/Seven-of-the-Biggest-Urban-Projects-Under-Development-Across-US/192088
Read more by clicking below image