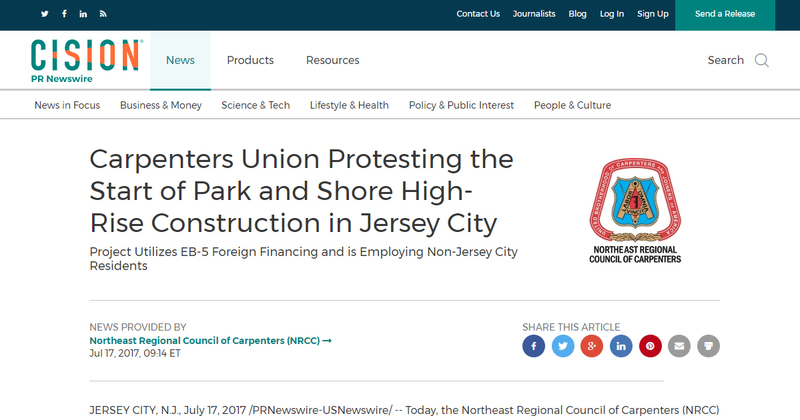 Project Utilizes EB-5 Foreign Financing and is Employing Non-Jersey City Residents
Today, the Northeast Regional Council of Carpenters (NRCC) will begin a campaign to raise awareness for the business and employment practices of Structure Tech, the subcontractor responsible for construction of the concrete super structure, on the new 37-story Park and Shore residential/retail development at 75 Park Lane in Jersey City.
NRCC members will begin picketing activities outside of the Park and Shore job site today to raise awareness to the fact that Structure Tech is failing to pay the area wage standards, health and retirement benefits to its workers and employing workers from out of State to work on the Jersey City project.
"Simply put, this is another example of a project that exploits middle class workers, uses cheap, non-local labor and banks on foreign investors for hundreds of millions of dollars in funding in exchange for U.S. visas," said Bob Satriano, NRCC's Director of Organizing.
Source: http://www.prnewswire.com/news-releases/carpenters-union-protesting-the-start-of-park-and-shore-high-rise-construction-in-jersey-city-300488985.html
Read more by clicking below image