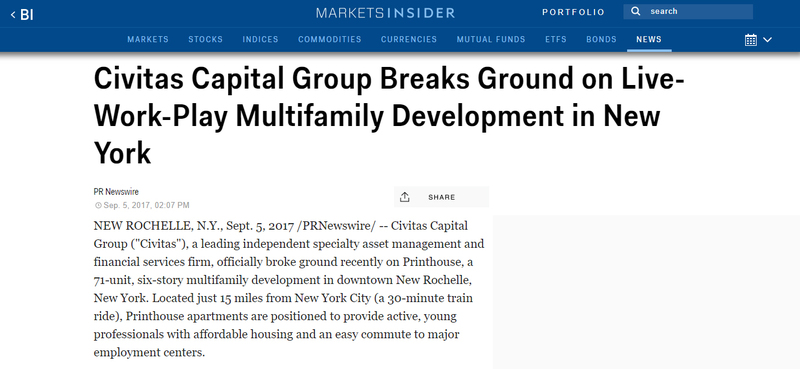 Civitas Capital Group ("Civitas"), a leading independent specialty asset management and financial services firm, officially broke ground recently on Printhouse, a 71-unit, six-story multifamily development in downtown New Rochelle, New York. Located just 15 miles from New York City (a 30-minute train ride), Printhouse apartments are positioned to provide active, young professionals with affordable housing and an easy commute to major employment centers.
Printhouse groundbreaking, left to right: Phil Watkins, Principal from Megalith Capital Management; Dr. Samuel Taller, investor from East & Hudson, Anup Misra, co-founder and CEO of East & Hudson; Sam Sidhu, Principal and CEO from Megalith Capital Management; Noam Bramson, Mayor of New Rochelle; Charles B. Strome III, New Rochelle City Manager; and Barry Fertel, New Rochelle City Councilman.
Printhouse is located within walking distance of numerous dining, entertainment, and retail options, promoting a true live-work-play environment. "Printhouse is a true live, work, play environment," said David Lee, Director of Investments at Civitas.
Source: http://markets.businessinsider.com/news/stocks/Civitas-Capital-Group-Breaks-Ground-on-Live-Work-Play-Multifamily-Development-in-New-York-637156
Read more by clicking below image