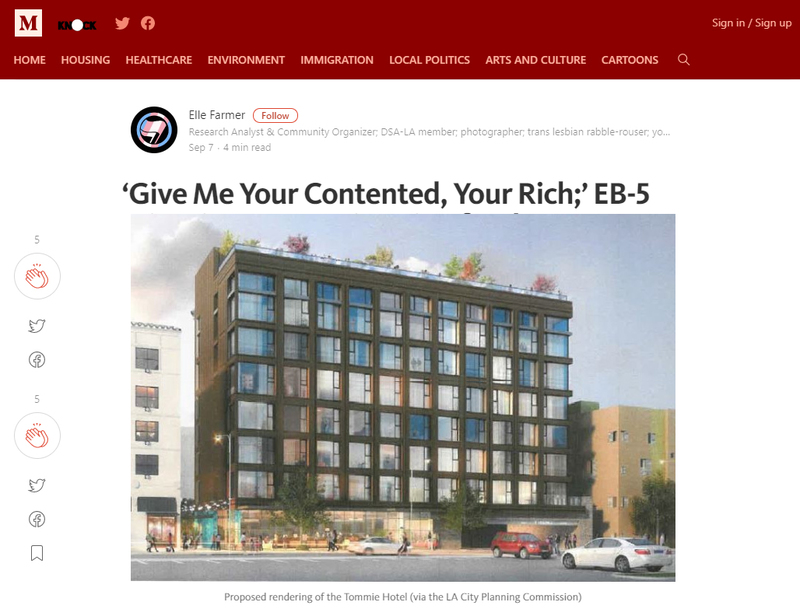 Proposed rendering of the Tommie Hotel (via the LA City Planning Commission)
The Trump administration is rapidly expanding the scope of deportations and ICE raids against immigrants, and this week ended DACA. Thousands of people have already been swept up or live in fear being so, and now 800,000 DACA recipients are facing life-shattering uncertainty. While that is happening, the controversial EB-5 Visa program allows real estate developers to sell legal immigration status to foreign investors for $500,000, allowing the very rich to buy their way into legal status.
The EB-5 program, started in 1992, allows real estate developers to apply to create "Regional Centers", which can then pool investments from non-US Citizens. The program was not designed to be permanent and is operating on short term extensions when Congress reauthorizes its temporary budget. It has been in this unreformed semi-limbo (but still operating) state for some time. According to USCIS, as of Sept. 5th, 2017 there are currently 835 active "Regional Centers" in the US. 206 of them are in California alone. In 2015 USCIS reported 8,756 visas issued to immigrants who invested a total of $4.4 billion (with a conservative assumption that each investor invests at the lowest threshold of $500,000 each).
Source: https://knock-la.com/give-me-your-contented-your-rich-eb-5-visas-in-la-immigration-for-the-1-c6453ca68706
Read more by clicking below image