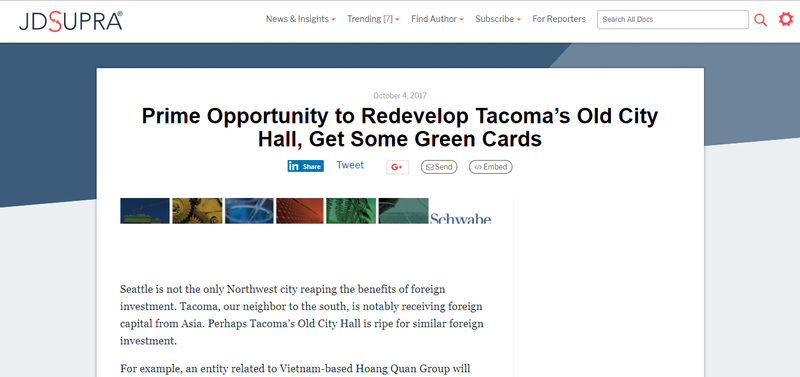 Seattle is not the only Northwest city reaping the benefits of foreign investment. Tacoma, our neighbor to the south, is notably receiving foreign capital from Asia. Perhaps Tacoma's Old City Hall is ripe for similar foreign investment.
For example, an entity related to Vietnam-based Hoang Quan Group will soon break ground on a $40 million apartment project with approximately 160 units on the corner of Tacoma Avenue South and Earnest S. Brazill Street. The project is Hoang Quan Group's first in the United States after successfully developing tens of thousands of apartments throughout Vietnam over the last fifteen years. Hoang Quan Group was also close to purchasing the Washington Building in downtown Tacoma, but abandoned the deal to pursue the current apartment project.
In addition, Yareton Investment and Management LLC, a developer based in China, recently began construction on the much-anticipated 22-story Marriott Hotel adjacent to the Tacoma Convention and Trade Center. Utilizing the EB-5 program, a program created to stimulate the economy by creating jobs and opportunities for investment by foreign investors, Yareton Investment funded approximately 40% of the $85 million project.
Source: http://www.jdsupra.com/legalnews/prime-opportunity-to-redevelop-tacoma-s-11409/
Read more by clicking below image