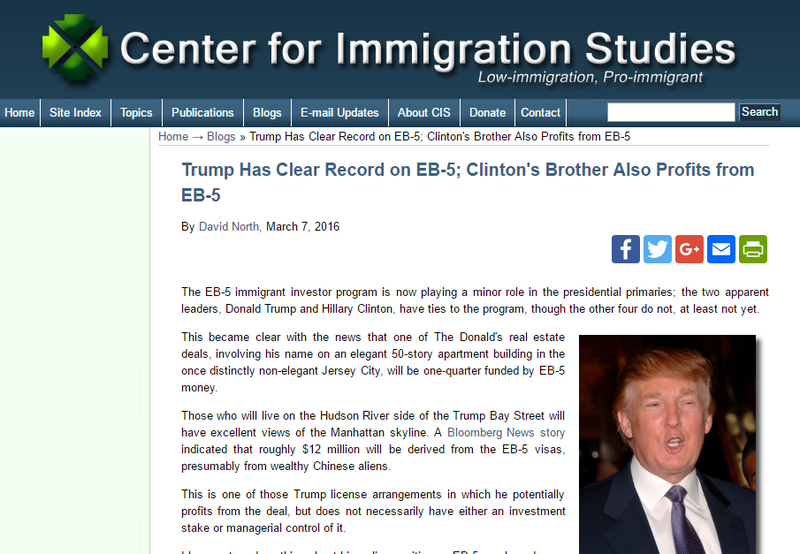 The EB-5 immigrant investor program is now playing a minor role in the presidential primaries; the two apparent leaders, Donald Trump and Hillary Clinton, have ties to the program, though the other four do not, at least not yet.
This became clear with the news that one of The Donald's real estate deals, involving his name on an elegant 50-story apartment building in the once distinctly non-elegant Jersey City, will be one-quarter funded by EB-5 money.
Those who will live on the Hudson River side of the Trump Bay Street will have excellent views of the Manhattan skyline. A Bloomberg News story indicated that roughly $12 million will be derived from the EB-5 visas, presumably from wealthy Chinese aliens.
This is one of those Trump license arrangements in which he potentially profits from the deal, but does not necessarily have either an investment stake or managerial control of it.
I have not read anything about his policy position on EB-5, nor have I seen anything about Hillary Clinton's position. But in her case, there are direct ties between her brother, Anthony Rodham, and the program. As CIS has reported in the past, Rodham is an officer of the regional center that raised money for the since-collapsed Greentech proposal to build energy-efficient golf carts; at one time the project also involved Terry McAuliffe, before he became a candidate for Virginia's governorship.
Source: http://cis.org/north/trump-has-clear-record-eb-5-clintons-brother-also-profits-eb-5
Read more by clicking below image