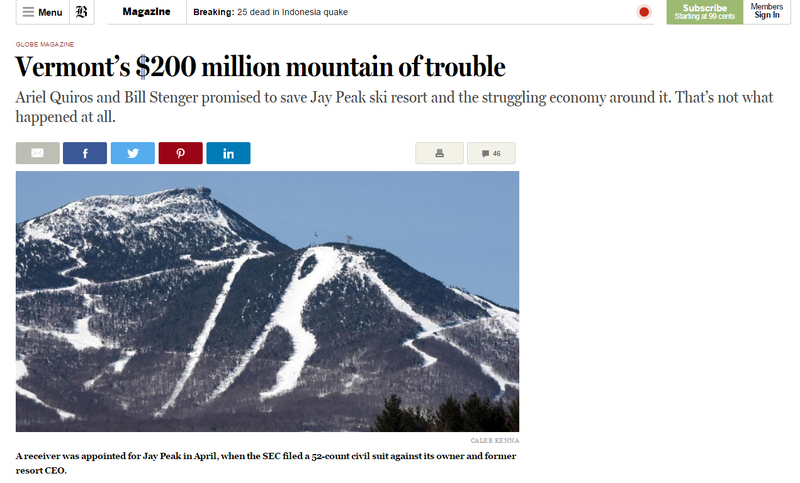 Ariel Quiros and Bill Stenger promised to save Jay Peak ski resort and the struggling economy around it. That's not what happened at all.
A receiver was appointed for Jay Peak in April, when the SEC filed a 52-count civil suit against its owner and former resort CEO.
MICHAEL GOLDBERG HASN'T SKIED in decades. Not that there's been much opportunity since he graduated from Boston University Law School in 1990. He lives in Fort Lauderdale, Florida, where winter sports means donning a sweater to play bocce on the beach. "Besides," the 53-year-old says, "I'm getting too old to start skiing now."
Yet, perhaps no one is hoping — praying — more for lots of snow this year on New England's ski slopes than Goldberg, and particularly at one mountain: Jay Peak. That's because he now runs the place.
Until recently, Goldberg knew as much about operating a ski resort as he would about being the head coach of the Patriots. Which is to say: nothing. What he does know, maybe as well as anyone, is how to unwind complex cases of alleged fraud. When federal judges need to appoint a fixer in these types of situations, he's the JD with an MBA on their speed dial.
Source: https://www.bostonglobe.com/magazine/2016/12/06/vermont-million-mountain-trouble/8GQeCI9VTY6uuXzOcj32RI/story.html
Read more by clicking below image