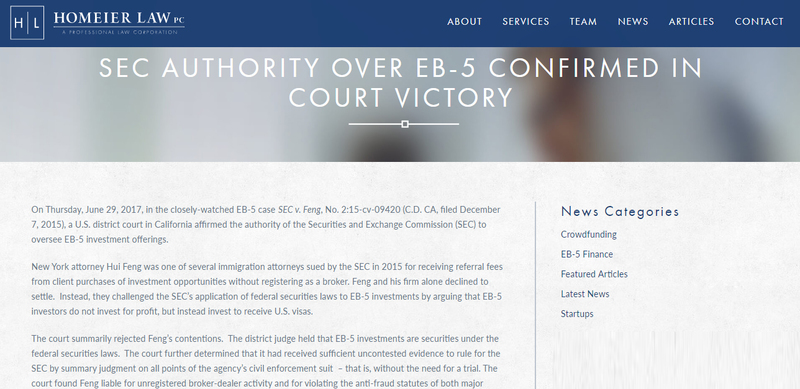 On Thursday, June 29, 2017, in the closely-watched EB-5 case SEC v. Feng, No. 2:15-cv-09420 (C.D. CA, filed December 7, 2015), a U.S. district court in California affirmed the authority of the Securities and Exchange Commission (SEC) to oversee EB-5 investment offerings.
New York attorney Hui Feng was one of several immigration attorneys sued by the SEC in 2015 for receiving referral fees from client purchases of investment opportunities without registering as a broker. Feng and his firm alone declined to settle. Instead, they challenged the SEC's application of federal securities laws to EB-5 investments by arguing that EB-5 investors do not invest for profit, but instead invest to receive U.S. visas.
The court summarily rejected Feng's contentions. The district judge held that EB-5 investments are securities under the federal securities laws. The court further determined that it had received sufficient uncontested evidence to rule for the SEC by summary judgment on all points of the agency's civil enforcement suit – that is, without the need for a trial.
Source: http://homeierlaw.com/latest-news/sec-authority-eb-5-confirmed-court-victory/
Read more by clicking below image