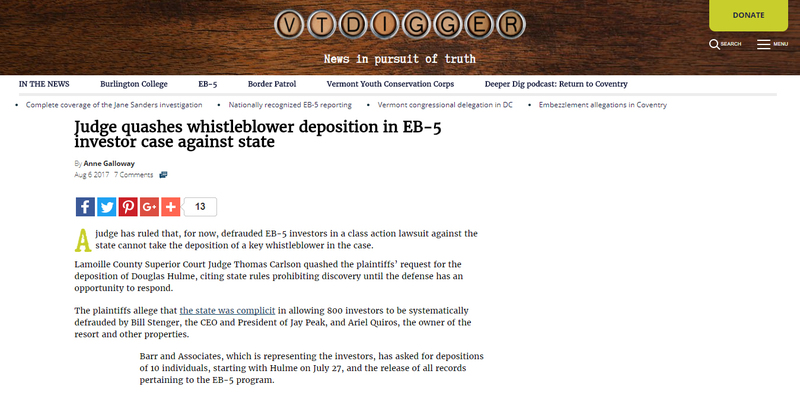 A judge has ruled that, for now, defrauded EB-5 investors in a class action lawsuit against the state cannot take the deposition of a key whistleblower in the case.
Lamoille County Superior Court Judge Thomas Carlson quashed the plaintiffs' request for the deposition of Douglas Hulme, citing state rules prohibiting discovery until the defense has an opportunity to respond.
The plaintiffs allege that the state was complicit in allowing 800 investors to be systematically defrauded by Bill Stenger, the CEO and President of Jay Peak, and Ariel Quiros, the owner of the resort and other properties.
Barr and Associates, which is representing the investors, has asked for depositions of 10 individuals, starting with Hulme on July 27, and the release of all records pertaining to the EB-5 program.
Source: https://vtdigger.org/2017/08/06/judge-quashes-whistleblower-deposition-eb-5-investor-case-state/
Read more by clicking below image