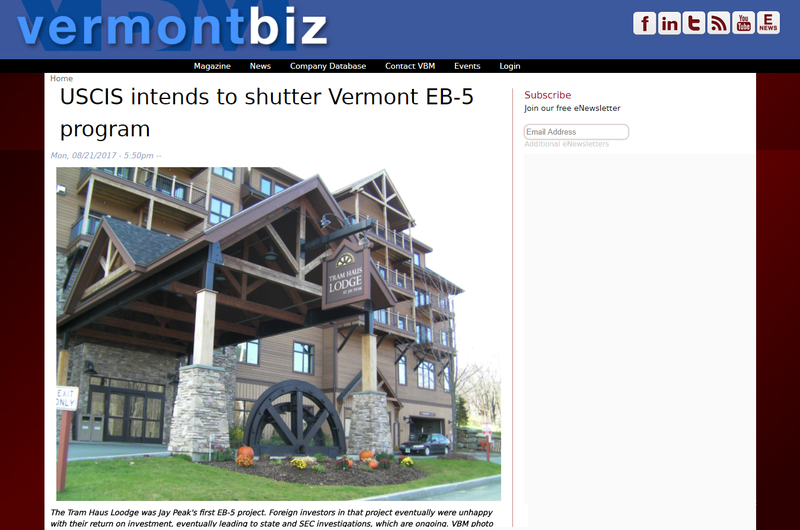 The Tram Haus Lodge was Jay Peak's first EB-5 project. Foreign investors in that project eventually were unhappy with their return on investment, eventually leading to state and SEC investigations, which are ongoing. VBM photo
Vermont Business Magazine The federal government on Friday informed the state that it will seek to close Vermont's foreign investment program, widely known as EB-5, because of the fraud allegations involving Jay Peak and related projects. Federal and state charges of a $200 million fraud against the developers were revealed in April 2016. The Scott Administration separately announced today that it has prepared a report to slowly close the Vermont Regional Center by no longer taking on new projects, but overseeing existing ones. New EB-5 centers would be privately run, as the one at Mount Snow currently is organized. The state would need approval from US Citizenship and Immigration Service (USCIS), which administers the EB-5 program, in order to continue with the VRC in a limited role.
Following the court's approval of a settlement with Raymond James Financial this past April to reimburse Jay Peak and Burke Mountain creditors, Governor Phil Scott, on July 5, directed the Vermont Department of Financial Regulation (DFR) to conduct a programmatic review of the operations of the Vermont EB-5 Regional Center (VRC).
Source: http://www.vermontbiz.com/news/2017/august/21/uscis-intends-shutter-vermont-eb-5-program
Read more by clicking below image