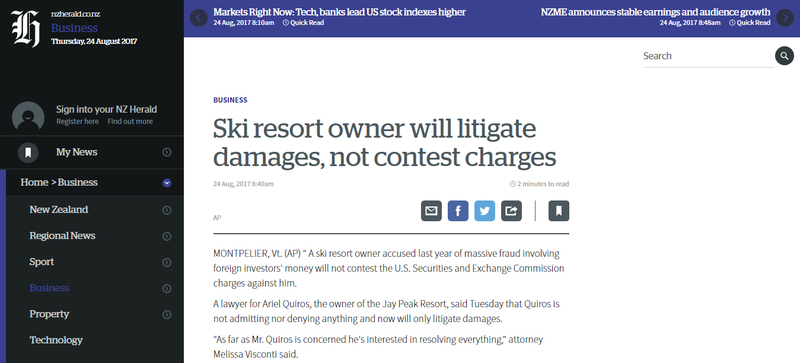 " A ski resort owner accused last year of massive fraud involving foreign investors' money will not contest the U.S. Securities and Exchange Commission charges against him.
A lawyer for Ariel Quiros, the owner of the Jay Peak Resort, said Tuesday that Quiros is not admitting nor denying anything and now will only litigate damages.
"As far as Mr. Quiros is concerned he's interested in resolving everything," attorney Melissa Visconti said.
Quiros and the then-president of Jay Peak, William Stenger, were accused last year by the SEC and by Vermont of misusing more than $200 million raised from foreign investors through the EB-5 visa program for developments at or near the ski resort.
Stenger has settled with the SEC.
Source: http://www.nzherald.co.nz/business/news/article.cfm?c_id=3&objectid=11909894
Read more by clicking below image