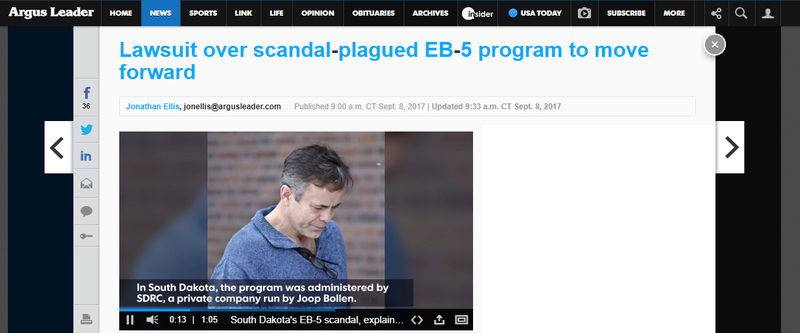 A DACA vigil was held at Meldrum Park in Sioux Falls, South Dakota in response to President Trump ending the program earlier in the day.
A federal judge has refused to dismiss a lawsuit filed against the architect of the state's EB-5 immigrant investor program and 65 Asian investors after finding possible violations of public policy and state law.
Judge Charles Kornmann also noted that federal and state officials neglected to oversee the program, and he outlined the tangled business dealings that generated millions of dollars in potential profits.
Joop Bollen had sought to be dismissed from the lawsuit brought by Tentexkota LLC and eight of its members, including country music star Kenny Alphin. Tentexkota was an investor in the Deadwood Mountain Grand, a hotel, casino and event center, borrowing $32.5 million from EB-5 investors.
Source: http://www.argusleader.com/story/news/2017/09/08/lawsuit-over-scandal-plagued-eb-5-program-move-forward/643664001/
Read more by clicking below image