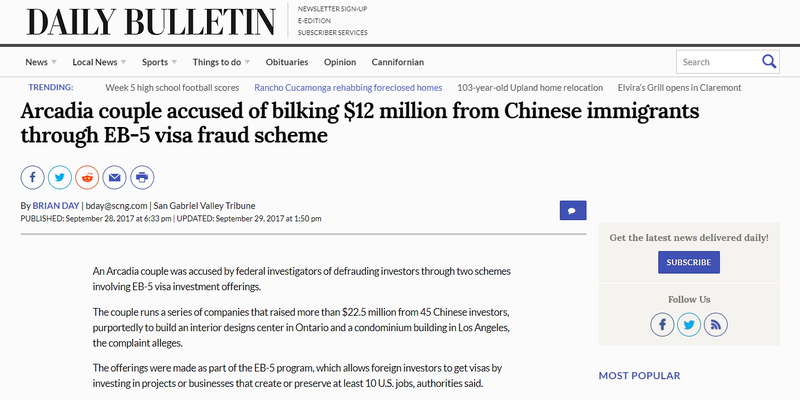 An Arcadia couple was accused by federal investigators of defrauding investors through two schemes involving EB-5 visa investment offerings.
The couple runs a series of companies that raised more than $22.5 million from 45 Chinese investors, purportedly to build an interior designs center in Ontario and a condominium building in Los Angeles, the complaint alleges.
The offerings were made as part of the EB-5 program, which allows foreign investors to get visas by investing in projects or businesses that create or preserve at least 10 U.S. jobs, authorities said.
Edward Chen, also known as Jianqiao Chen, Jian Qiao Chen, and Jian Chen, also known as Jing Jiang and Jean Jiang, are named in a civil complaint filed by the U.S. Securities and Exchange Commission and unsealed Tuesday, SEC officials said in a written statement. Their ages were not available.
Source: http://www.dailybulletin.com/2017/09/28/arcadia-couple-accused-of-bilking-12-million-from-chinese-immigrants-through-eb-5-visa-fraud-scheme/#
Read more by clicking below image