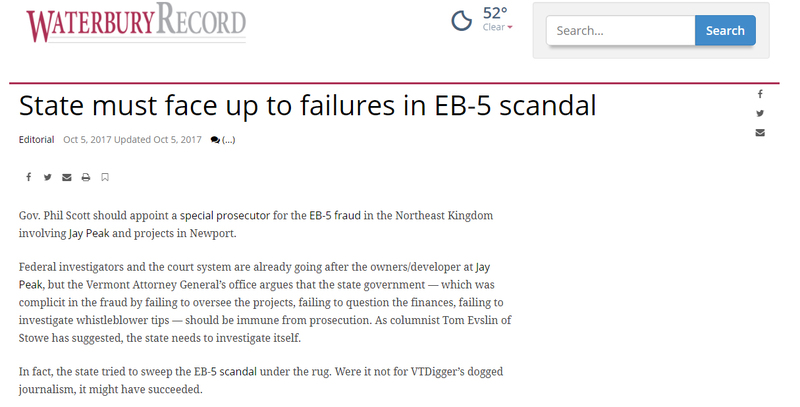 Gov. Phil Scott should appoint a special prosecutor for the EB-5 fraud in the Northeast Kingdom involving Jay Peak and projects in Newport.
Federal investigators and the court system are already going after the owners/developer at Jay Peak, but the Vermont Attorney General's office argues that the state government — which was complicit in the fraud by failing to oversee the projects, failing to question the finances, failing to investigate whistleblower tips — should be immune from prosecution. As columnist Tom Evslin of Stowe has suggested, the state needs to investigate itself.
In fact, the state tried to sweep the EB-5 scandal under the rug. Were it not for VTDigger's dogged journalism, it might have succeeded.
Source:http://www.stowetoday.com/waterbury_record/opinion/weekly_editorial/state-must-face-up-to-failures-in-eb--scandal/article_4c184e1e-a9dd-11e7-b415-ffbe018b3a30.html
Read more by clicking below image