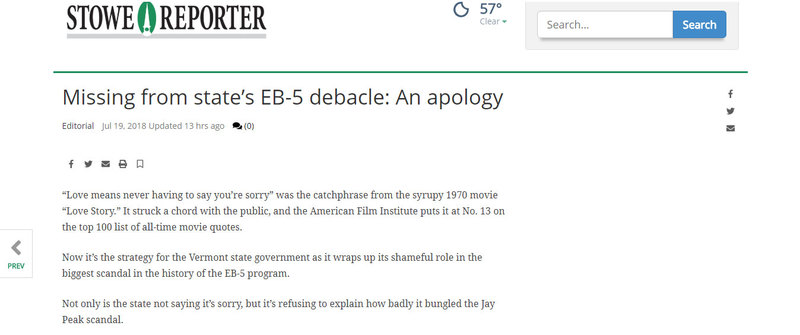 "Love means never having to say you're sorry" was the catchphrase from the syrupy 1970 movie "Love Story." It struck a chord with the public, and the American Film Institute puts it at No. 13 on the top 100 list of all-time movie quotes.
Now it's the strategy for the Vermont state government as it wraps up its shameful role in the biggest scandal in the history of the EB-5 program.
Not only is the state not saying it's sorry, but it's refusing to explain how badly it bungled the Jay Peak scandal.
Source: https://www.stowetoday.com/stowe_reporter/opinion/weekly_editorial/missing-from-state-s-eb--debacle-an-apology/article_68066e4a-8b63-11e8-b5f5-5f85a30d6a57.html
Read more by clicking below image