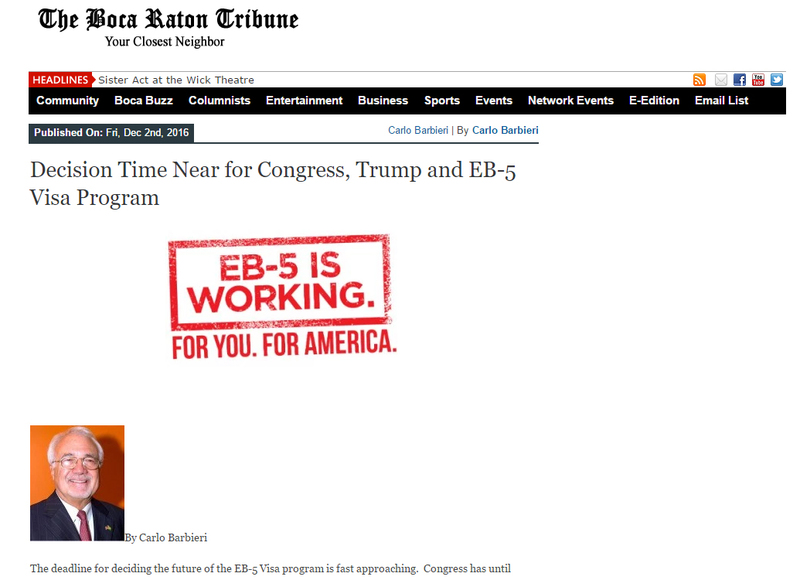 The deadline for deciding the future of the EB-5 Visa program is fast approaching. Congress has until Dec. 9 either to terminate the 26-year specialized immigration project; continue it the way it is written or modify it.
So far, those questions remain unanswered. But historical facts and stated political positions can be taken into account to come up with a clearer picture of what that future might be. And it appears the EB-5 effort is likely to be adopted once again.
Let's be sure we are all on the same page regarding its provisions. The EB-5 program was created by Congress in 1990 to stimulate the US economy through job creation and capital outlay by foreign investors. Residents of foreign countries can come to the US under EB-5 if they create a new commercial business and generate a specific number of new jobs. The effort also allows an EB-5 visa to be issued to someone intent on saving a so-called "troubled" enterprise.
Under a pilot program enacted in 1992, and regularly reauthorized each year since then, financiers may also qualify for EB-5 visas by investing through regional centers designated by the United States Citizenship and Immigration Services (USCIS) based on proposals for promoting economic growth.
Source: http://www.bocaratontribune.com/bocaratonnews/2016/12/decision-time-near-for-congress-trump-and-eb-5-visa-program/
Read more by clicking below image