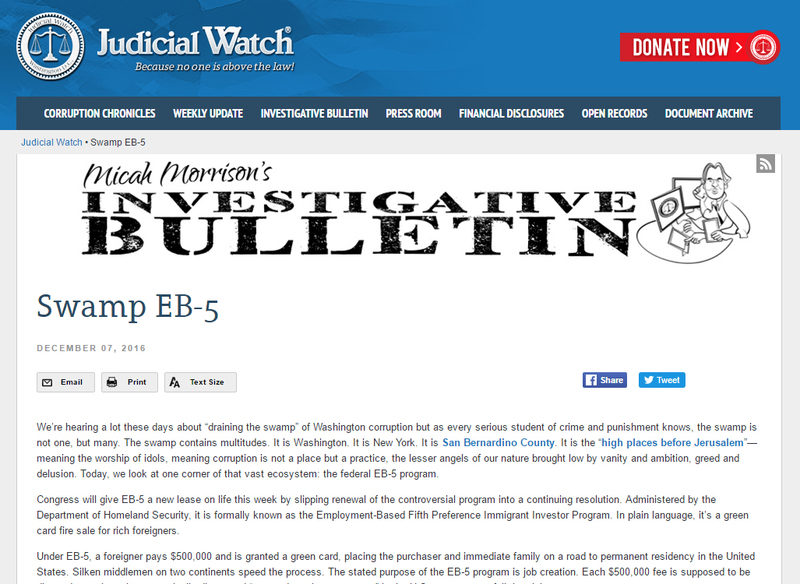 We're hearing a lot these days about "draining the swamp" of Washington corruption but as every serious student of crime and punishment knows, the swamp is not one, but many. The swamp contains multitudes. It is Washington. It is New York. It is San Bernardino County. It is the "high places before Jerusalem"—meaning the worship of idols, meaning corruption is not a place but a practice, the lesser angels of our nature brought low by vanity and ambition, greed and delusion. Today, we look at one corner of that vast ecosystem: the federal EB-5 program.
Congress will give EB-5 a new lease on life this week by slipping renewal of the controversial program into a continuing resolution. Administered by the Department of Homeland Security, it is formally known as the Employment-Based Fifth Preference Immigrant Investor Program. In plain language, it's a green card fire sale for rich foreigners.
Under EB-5, a foreigner pays $500,000 and is granted a green card, placing the purchaser and immediate family on a road to permanent residency in the United States. Silken middlemen on two continents speed the process. The stated purpose of the EB-5 program is job creation. Each $500,000 fee is supposed to be directed to projects in economically distressed "targeted employment areas" in the U.S. to create ten full-time jobs.
Source: http://www.judicialwatch.org/bulletins/swamp-eb-5/
Read more by clicking below image