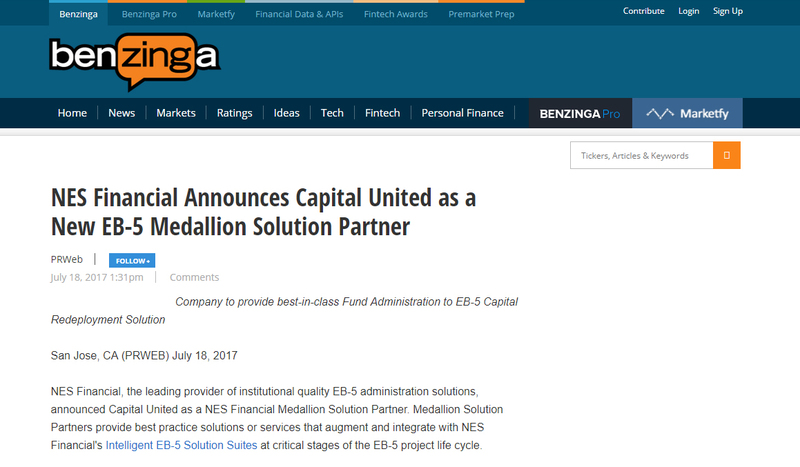 Company to provide best-in-class Fund Administration to EB-5 Capital Redeployment Solution
NES Financial, the leading provider of institutional quality EB-5 administration solutions, announced Capital United as a NES Financial Medallion Solution Partner. Medallion Solution Partners provide best practice solutions or services that augment and integrate with NES Financial's Intelligent EB-5 Solution Suites at critical stages of the EB-5 project life cycle.
With visa backlogs due to retrogression at record levels for Chinese investors, one of the most important issues emerging is the need for capital redeployment. The issue arises when a project loan needs to be repaid or refinanced prior to the final step in the EB-5 immigration process being reached. Without a proper solution, this can be a complex and risky undertaking for both the EB-5 Regional Centers, project owners and their investors. The risks may include investing (redeploying capital) in potentially higher risk or less desirable investments, possible mishandling or even the misappropriation of the investors' capital, violations of US Securities laws, or falling out of compliance with the EB-5 program "at-risk" requirements.
Source: https://www.benzinga.com/pressreleases/17/07/p9789936/nes-financial-announces-capital-united-as-a-new-eb-5-medallion-solution
Read more by clicking below image