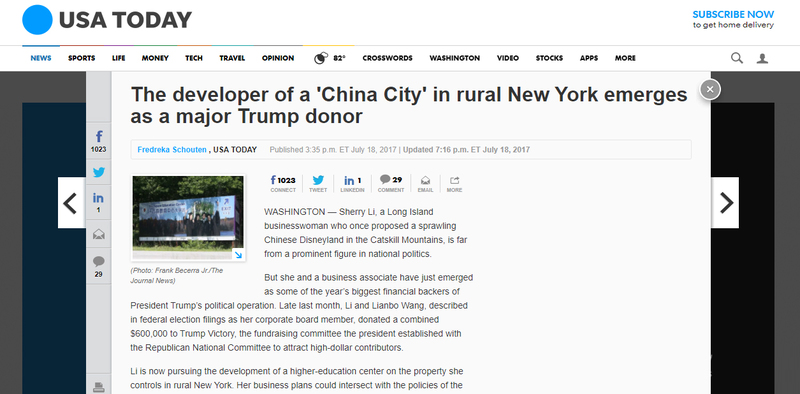 Sherry Li, a Long Island businesswoman who once proposed a sprawling Chinese Disneyland in the Catskill Mountains, is far from a prominent figure in national politics.
But she and a business associate have just emerged as some of the year's biggest financial backers of President Trump's political operation. Late last month, Li and Lianbo Wang, described in federal election filings as her corporate board member, donated a combined $600,000 to Trump Victory, the fundraising committee the president established with the Republican National Committee to attract high-dollar contributors.
Li is now pursuing the development of a higher-education center on the property she controls in rural New York. Her business plans could intersect with the policies of the new Trump administration on everything from immigration to the regulation of for-profit colleges.
Li did not respond this week to several interview requests about her political giving. Attempts to reach Wang also were unsuccessful.
Source: https://www.usatoday.com/story/news/politics/2017/07/18/mysterious-developer-china-disneyland-rural-new-york-emerges-major-trump-donor/487551001/
Read more by clicking below image