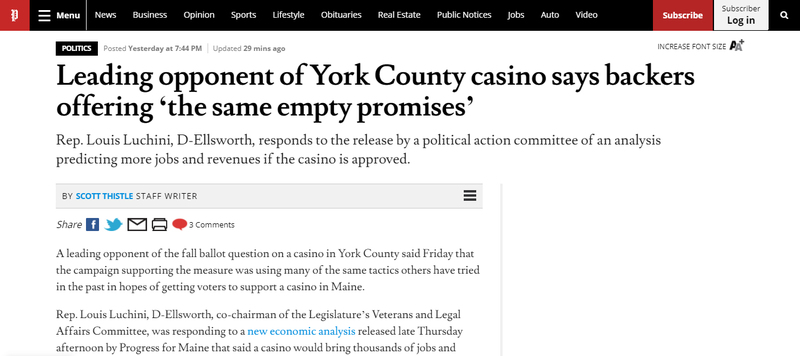 Rep. Louis Luchini, D-Ellsworth, responds to the release by a political action committee of an analysis predicting more jobs and revenues if the casino is approved.
A leading opponent of the fall ballot question on a casino in York County said Friday that the campaign supporting the measure was using many of the same tactics others have tried in the past in hopes of getting voters to support a casino in Maine.
Rep. Louis Luchini, D-Ellsworth, co-chairman of the Legislature's Veterans and Legal Affairs Committee, was responding to a new economic analysis released late Thursday afternoon by Progress for Maine that said a casino would bring thousands of jobs and millions of dollars in new revenue for the state. He said the study is based on building a resort-style casino that the ballot question doesn't even require.
"Based on the first bullet point in this study, the impact is based on a resort casino with a hotel and a convention center, but none of those are required in the ballot question law as it is proposed," Luchini said.
Source: http://www.pressherald.com/2017/09/15/leading-opponent-of-york-county-casino-says-hes-seen-it-all-before/
Read more by clicking below image