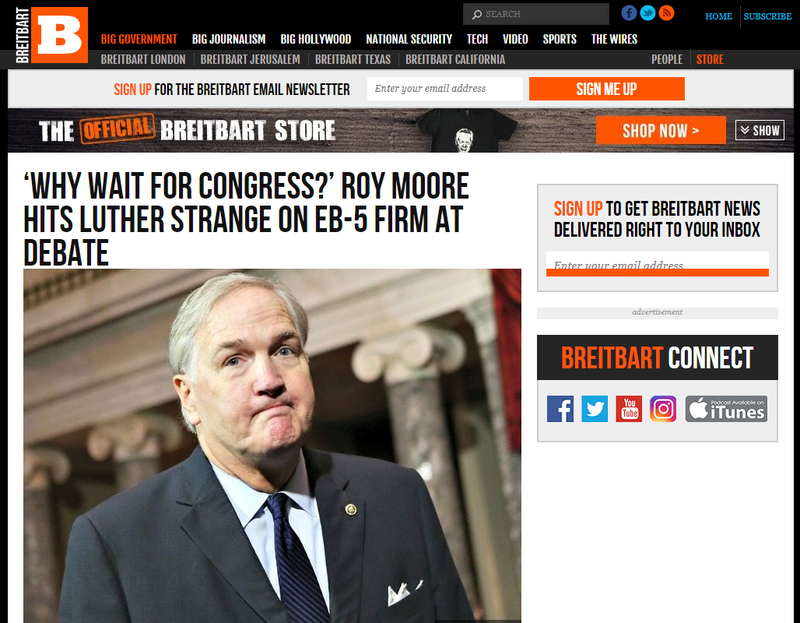 At the "Lincoln-Douglas" style moderator-less debate in Montgomery, Alabama Thursday, former Alabama Chief Justice Roy Moore called out his opponent Sen. Luther Strange over revelations he stands to profit from the controversial EB-5 visa program.
Referring to his opponent's tight-lipped response to the scandal over his ownership interest in Sunbelt EB-5 Regional Center, LLC – a firm that promises visas for mostly Chinese investors and their families under the EB-5 program – that Congress had to "get to work" on concerns over the program, Moore said to the debate audiance:
Luther Strange agrees that their are serious concerns over the EB-5 visa program, which is 'not being used as originally intended.' He says it's time for Congress to get to work on these issues, but Mr. Strange owns a part of the company and has received revenue therefrom from the sale of visas to wealthy Chinese investors.
Source: http://www.breitbart.com/big-government/2017/09/21/why-wait-for-congress-roy-moore-hits-luther-strange-on-eb-5-firm-at-debate/
Read more by clicking below image