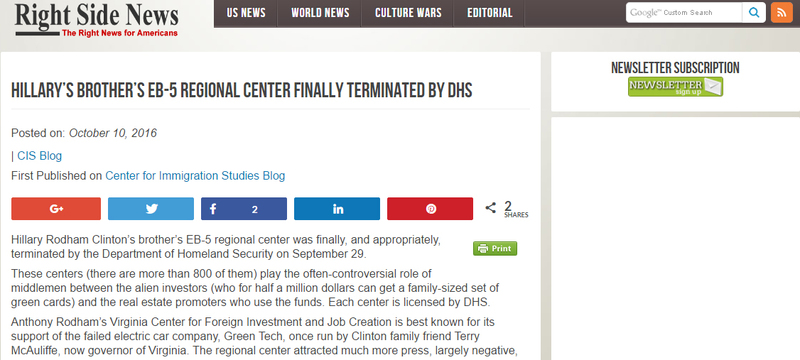 Hillary Rodham Clinton's brother's EB-5 regional center was finally, and appropriately, terminated by the Department of Homeland Security on September 29.
These centers (there are more than 800 of them) play the often-controversial role of middlemen between the alien investors (who for half a million dollars can get a family-sized set of green cards) and the real estate promoters who use the fun
Anthony Rodham's Virginia Center for Foreign Investment and Job Creation is best known for its support of the failed electric car company, Green Tech, once run by Clinton family friend Terry McAuliffe, now governor of Virginia. The regional center attracted much more press, largely negative, than it did investors, though there were a few of the latter. The interactions among Rodham, McAuliffe, and then USCIS Director (now the retiring Deputy DHS Secretary) Alejandro Mayorkas created congressional hearings and complicated Mayorkas' confirmation process.
Source: http://www.rightsidenews.com/editorial/us-opinion-and-editorial/hillarys-brothers-eb-5-regional-center-finally-terminated-dhs/
Read more by clicking below image