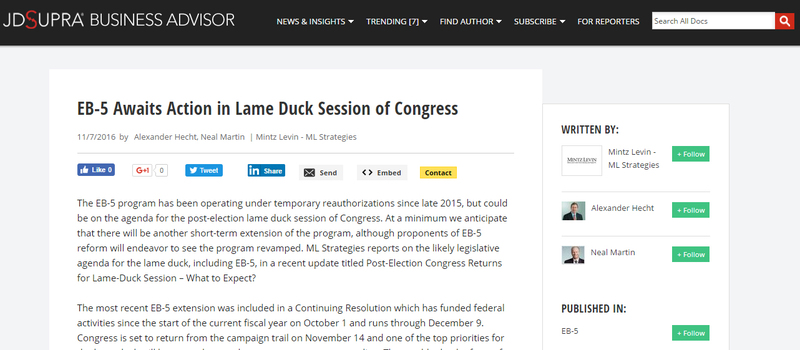 The EB-5 program has been operating under temporary reauthorizations since late 2015, but could be on the agenda for the post-election lame duck session of Congress. At a minimum we anticipate that there will be another short-term extension of the program, although proponents of EB-5 reform will endeavor to see the program revamped. ML Strategies reports on the likely legislative agenda for the lame duck, including EB-5, in a recent update titled Post-Election Congress Returns for Lame-Duck Session – What to Expect?
The most recent EB-5 extension was included in a Continuing Resolution which has funded federal activities since the start of the current fiscal year on October 1 and runs through December 9. Congress is set to return from the campaign trail on November 14 and one of the top priorities for the lame duck will be some short- or long-term measure on spending. That could take the form of an Omnibus bill that includes spending for the remainder of the fiscal year, along with other matters such as the EB-5 program.
Several reauthorization and reform measures have been introduced in the House and Senate, most recently by House Judiciary Committee Chairman Bob Goodlatte (R-VA) and Ranking Member John Conyers (D-MI). That bill, the American Job Creation and Investment Promotion Reform Act (H.R. 5992), would extend the program through September 30, 2021.
Source: http://www.knoxnews.com/story/money/business/journal/2016/11/07/michael-beehan-know-regulations-affect-immigrants/91911828/
Read more by clicking below image