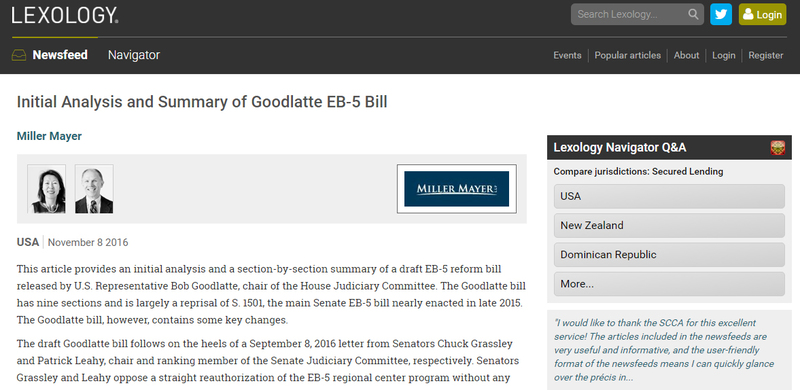 This article provides an initial analysis and a section-by-section summary of a draft EB-5 reform bill released by U.S. Representative Bob Goodlatte, chair of the House Judiciary Committee. The Goodlatte bill has nine sections and is largely a reprisal of S. 1501, the main Senate EB-5 bill nearly enacted in late 2015. The Goodlatte bill, however, contains some key changes.
The draft Goodlatte bill follows on the heels of a September 8, 2016 letter from Senators Chuck Grassley and Patrick Leahy, chair and ranking member of the Senate Judiciary Committee, respectively. Senators Grassley and Leahy oppose a straight reauthorization of the EB-5 regional center program without any changes. According to the letter, the EB-5 regional center program "has become plagued with fraud and abuse, and if not reformed it should be allowed to expire on September 30th." In light of the Grassley-Leahy letter, industry unity on regional center oversight measures will be essential to avoid program lapse after September 30.
The draft Goodlatte bill represents one effort to substantially reform the EB-5 regional center program.
Source: http://www.lexology.com/library/detail.aspx?g=90f79a5d-edd0-40ef-a555-5540a4454622
Read more by clicking below image